Platform Selection – taking a look at the major website builders.
There are lots of options when it comes to website builders. For our purposes, we're going to take an in-depth look at three popular options — WordPress, Squarespace, & Shopify. Don't worry, we'll explain why later. You may be asking, "What about Wix?" or What about GoDaddy?" Again, we'll address in further detail the reasons for focusing on WordPress, Squarespace or Shopify.
Selecting the right platform
makes life easier and offers
greater revenue potential.
Which platform is best for my business?
For starters, let's think about your business model and which type of web platform offers the best overall fit. Things in the industry are changing all the time, but the performance and reliability of these platforms offers some of the best options.
Shopify is one the best options for an ecommerce business that mainly sells products.

examples include,

health & beauty products
food & beverage
fashion or apparel
pet products
sports & fitness

Squarespace is one of the best options for a business that relies on strong visualizations and creativity.

examples include,

photography
videography
design
home decor
visual arts

WordPress is one of the best options for a business that provide services or information.

examples include,

writing or blogging
handyman or repair
coaching
event coordination
professional services
When it comes to platforms,
one size doesn't necessarily fit all.
It's all about your value proposition.
Again, the platform you choose should fit your business model and offer the features that best fit your needs. Of course, most platforms also rely on third-party applications that provide certain add-on features. Which apps you need depends on how the website needs to function.
Without SEO, finding your website is like searching for a needle in a haystack.
A website can be like having prime real estate on the internet, or it can be like living in a ghost town. Your website needs to be fully optimized for search engines in order for people to find it. There are lots of factors involved with SEO. Some are fairly simple, while others require lots of time and attention to detail. The 90 Day Fast Track will help guide you through the process.
Platform breakdown
WordPress: Did you know that–as of 2021– there are nearly a half-billion websites that operate on WordPress? That equates to approximately 45% of all websites on the internet! WordPress has an array of features, though it can be difficult to learn for beginners. Overall, it's a robust platform that a lot of entrepreneurs use.
Wix: Ever since the early 2000s, Wix has gained a lot of ground in the website builder market. As of 2021, the platform has about 120 million users. Wix continues to innovate on its capabilities as it grows. The company has acquired several other platforms to add to its own suite of services.
Shopify: Shopify has about 1.7 million websites on the platform. They provide a range of tools focusing specifically on e-commerce. The great thing is, sellers can use multiple domains on Shopify–that means an entrepreneur can run several businesses on the same platform.
Squarespace: As a relatively newer content management system, Squarespace has grown quickly. It has roughly 3 million active websites on the platform. Like other options, the platform allows for managing multiple sites from a single account. There's also a list of apps and integrations for things like booking appointments or processing payments.
No coding required
The thing that all of these platforms have in common is that they don't require users to know how to code. But with so many features, there's still a lot of things to manage on the backend. And with all the available third party applications, the choices can be overwhelming. All of these add-ons also come with a premium price.
Let's not forget about Amazon, etc.
Amazon is one of the world's largest online marketplaces. You can buy just about anything on their platform (and do lots more). But Amazon is just one example–there's plenty of other popular sites for selling products and services, including Etsy, eBay, and many others. In fact, there are specialty sites for pet products, antiques, vintage records, comic books and toys–the list goes on! The point is that these other sites can serve as part of your sales funnel, directing traffic back to your website. Think about your business model and develop a strategy that includes selling through multiple channels.
Things to consider…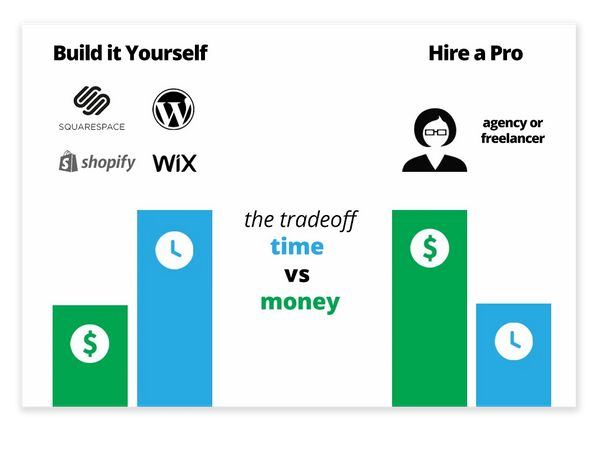 Your Assignment: Selecting a platform.
Choosing a Website Platform
There are lots of options when it comes to website builders. Think about your business model and which type of web platform offers the best overall fit.
Additional Resources: